Instacart

Fall 2021 - 6 weeks school project
new feature


Background information
Instacart is the North American leader in grocery delivery and one of the fastest growing companies in e-commerce.
My goal behind designing this new feature is that people can share shopping carts so they don't have to pass their phones around in order to buy something. Which sometimes can be very annoying and inconvenient.
Also Because nowadays, sharing things are by sharing links, through other apps like Messages, WeChat and so on. By achieving all operations in the Instacart app, there is no need to use other app sharing, which makes the user experience better.

Instacart
Shop online & get your groceries delivered directly to your door in as fast as 2 hours. Plus, your first grocery delivery is free! And it's safe—contactless delivery is available.
Instacart delivers fresh food, alcohol, and household items the same day all across the US. Download the app to see what stores are available in your zip code.
Using Process
1. Enter your zip code
2. Shop stores for groceries, household items, electronics, and more
3. Add your items to your cart and place your order
4. Chat with your shopper in real time to make any changes to your order
5. Relax while you you wait for your delivery to arrive
6. Enjoy your items while you save time & money
Features
Contactless delivery
Find your favorite products
Find exclusive deals & coupons
Creating shopping lists
Reorder your favorite products
View nutritional information & filter by diet
Amazonfresh
If you're a member of Amazon Prime, Amazon Fresh is a service that delivers groceries to your home.Currently, Amazon generates 40% of all
e-commerce sales in the US, which gives Amazon Fresh an advantage over Instacart. Amazon Fresh is Instacart's top competitor for many reasons.
Pros
Free to Prime members
Same-day delivery available
Free deliveries for orders over $35
You can schedule deliveries within a two-hour window
Cons
Does not allow manufacturer coupons
The service is currently only available in 15 cities
Walmart+

In Sept 2020, Walmart launched its new subscription-based service, Walmart+, for $98/year or $12.95/month with free home deliveries. The retailer also offers grocery deliveries via Walmart Grocery. This online grocery store is similar to Instacart. But it is available in 16,00 cities, while Instacart caters to more than 5,500 cities.
Pros
Available in most locations that have a Walmart
Free 15-day trial
Free delivery on orders over $35
Can order same-day delivery
Deliveries can be scheduled within a one-hour window
You can order anything the retailer sells for delivery
Cons
Can be costly if you don't meet the minimum delivery amount
Delivery drivers aren't identified as Walmart employees
---

INTERVIEWS
I conducted several interviews to get a better understanding of instacart users and their pain points.
Do you and your roommate or family use Instacart together? Do you often use each other's phones to add a particular item?

"Yes. I ordered with my roommate. She needed to

use my phone

to look up what she wanted. "

"Will, sometimes my parents and I will

use each other's phones

to choose something,

super inconvenient.

"

"Yes, sometimes my roommate will order something but I'm not home she needs to

text me and ask me, I need to open my app and select something and then take a screenshot

and send it to her, she then adds it to her cart one by one using her app."

"Yes, my wife and I will

pass the phone over

and over again in order to choose something"
The previous operation method of sharing pictures and copying links is too tedious, especially for more products that need to be shared, which increases the time and operation cost of users. Some users may not want to click on the links based on too many links, which reduces the reach of related products.
It was clear from the interview that instacart is for people who don't like to go grocery shopping or who don't have time. Most people use the app with their family or roommates, and they find it inconvenient to shop for supplies or groceries together.

So I want to explore different ways to improve the experience of multiple users of the same grocery shopping app


---

new feature- share shopping cart

People can share shopping carts so that they don't have to pass their phones around in order to buy something.By implementing all operations in the Instacart app, there is no need to use other app sharing, which makes the user experience better.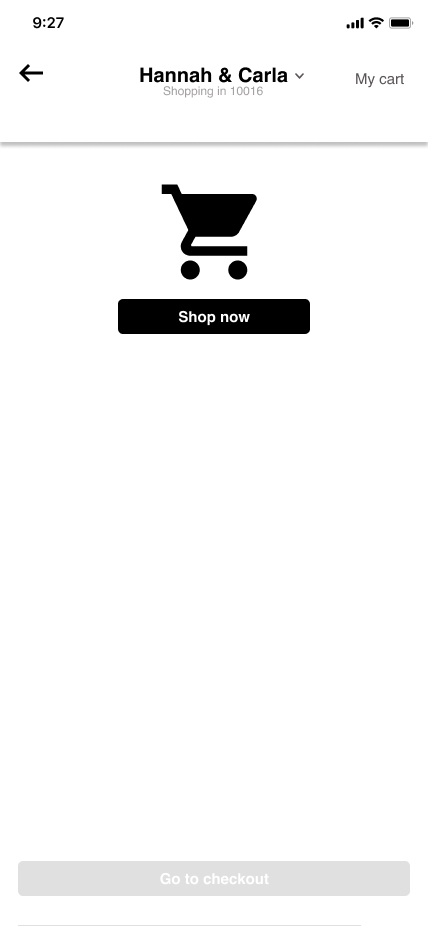 ---
Sharing a shopping cart is so much more convenient than sending the items in the cart one by one, saving a lot of trouble
100% of interviewees were not sure where to access the shared shopping cart
Whether to share the whole cart, or you can choose to share part of the cart
---
On - boarding
Whenever a user enters a page with a new button, there will be a hint. This is because I think it's easier for users to accept. If it's too complicated, or too much text, they'll just click on the next page or skip it. After my testing, they all like the current introduction, which is more concise, clearer and more obvious to tell users where there are updates.
Add friends
By adding friends inside the app, users can avoid the complicated steps of copying links and then sharing them to external apps.
There are three ways to add friends, and you can choose the one you find most convenient
Create cart
Once the user clicks on the shopping cart icon, he/she will be taken to the shopping cart page with a header indicating whether the cart is a private or shared cart.
Clicking on the small word "allcart" at the top right will take you to the page with all the shopping carts the user is in. The user can create a multi-person shopping cart here, and then it will go to the Select Friends to add, where the user can select his instacart friends to join the user's newly created cart.
Manage cart
Once users have created their group shopping cart, they can start shopping. Users can manage their shopping cart very easily. Users can delete unwanted group shopping carts, create new multi-person shopping carts, add new friends to existing carts, and delete existing ones. Moreover, user can change the name of the shopping cart for better identification.
High-fidelity video display


---

SUMMARY

I learned a lot and encountered challenges by completing this project alone. Because the app was already in existence and used by many people on a regular basis, much of the design needed to be preserved to maintain the user experience.I also found it a challenge to add new features to the existing application, which was already very well established. The user interviews helped me a lot to really put myself in the users' shoes to develop a new feature that they needed.