What is it ?

This app can help you organize the good articles in the social platform. Not only is it a bookmark, but it also allows you to quickly find and efficiently organize your articles. In short, it helps you to be more efficient, so you can spend more time on reading.

For now overload In the mobile world, the reading scene on cell phones is so fragmented that it is difficult for us to read the content we are interested in as soon as we come across it. so my key question is

" what if user had easy access to the important content thet had bookmarked?
User Research And Insights
I spoke with 6 people
AFFINITY MAP


INSIGHTS
All of them spend at least ten hours a day online.
They basically spend fragments of time looking at social media.
Five of them bookmark a lot of things every day.
Four of them have more than 1,000 bookmarked articles or videos, and the others have at least a few hundred.
Four of them have more than 6 app bookmarked things, and the rest have at least 3 apps.
They bookmarked things that they were usually interested in or related to their work or study.
They forgot what they have bookmarked because there are too many to find, or they forget they have bookmarked it.
All of them will repeatedly look at the bookmarked content because they can't remember it once.
---

META INSIGHTS
Most of my interviewees are used to bookmark the content they are interested in first and read it slowly when they have time.


And they like to bookmark useful articles and find them at their convenience when they need them. "Somethings are bookmarked, not to be read, but to be found when you're in need."


For most of them bookmarking is not the problem, not reading is the key. Not finding the right time and scene to absorb their favorites

---

---
1st low-fid

2 different concepts ——

Import links from external sources, then categorize them by different themes
2nd
low-fid
Add recommended reading
3rd
low-fid
Add an exploration option to read more content of your interest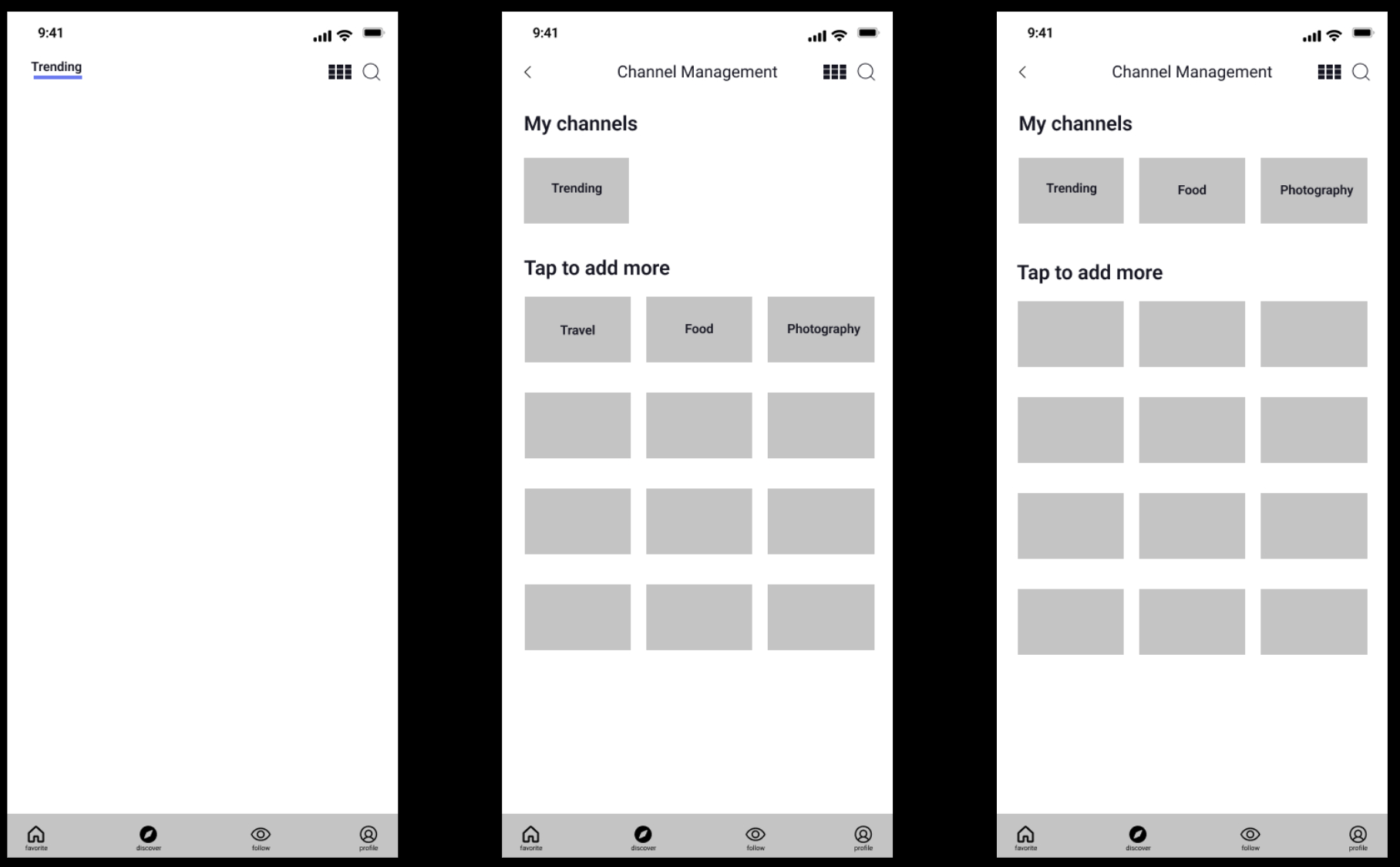 User testing and takeways

Categorize by theme is better

A more convenient approach is needed when importing links in large numbers

Automatically categorize articles according to keywords after importing them

Related reading recommendations are better at the end

Add the option to listen to articles in the article reading page.


Mid-Fi Prototype And User testing

Mid-Fi
Prototype

Revised home page based on previous user testing
User testing



Mid-Fi Prototype

Added a more detailed filter method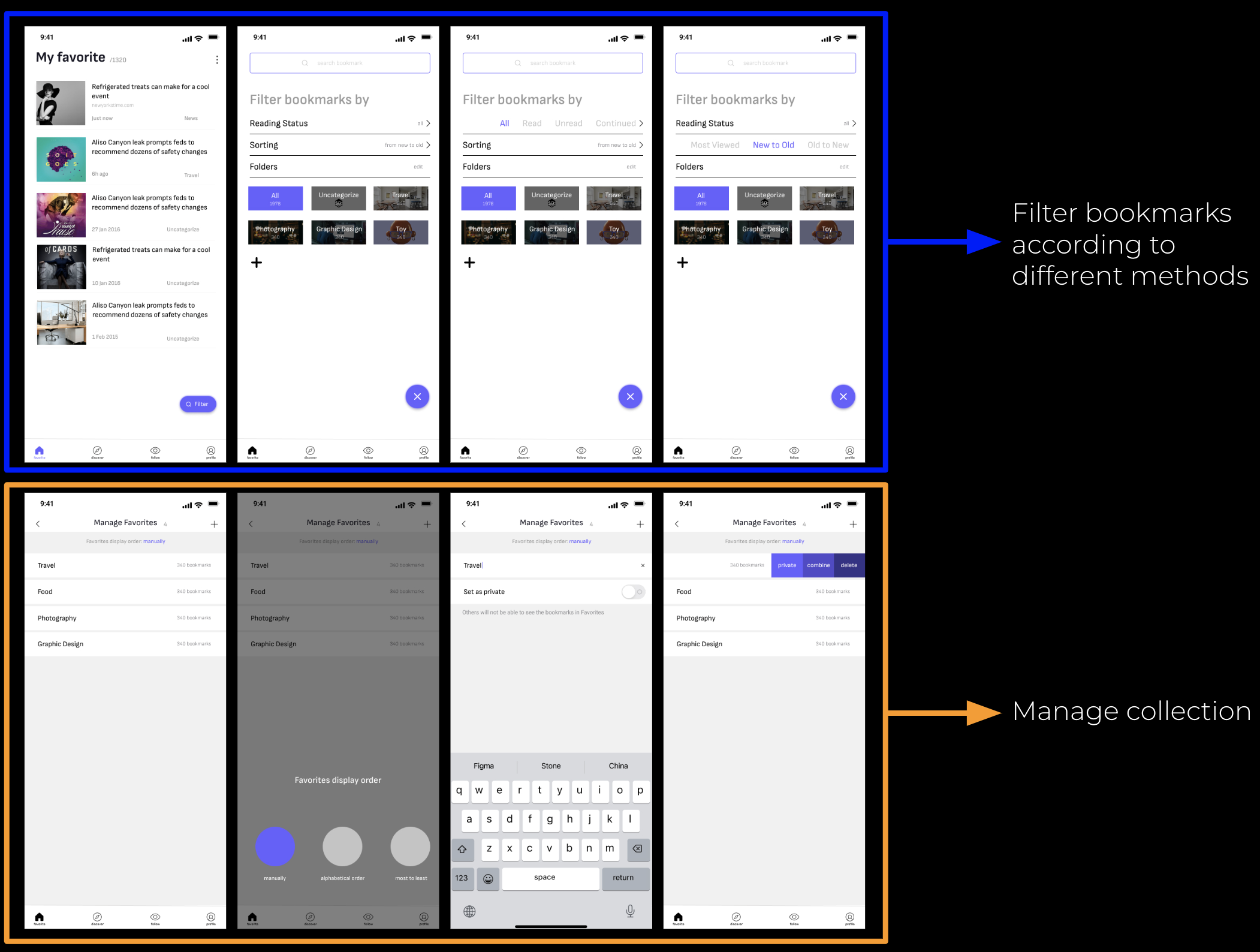 User testing


Mid-Fi Prototype

Reading Page


Mid-Fi Prototype

Reading Page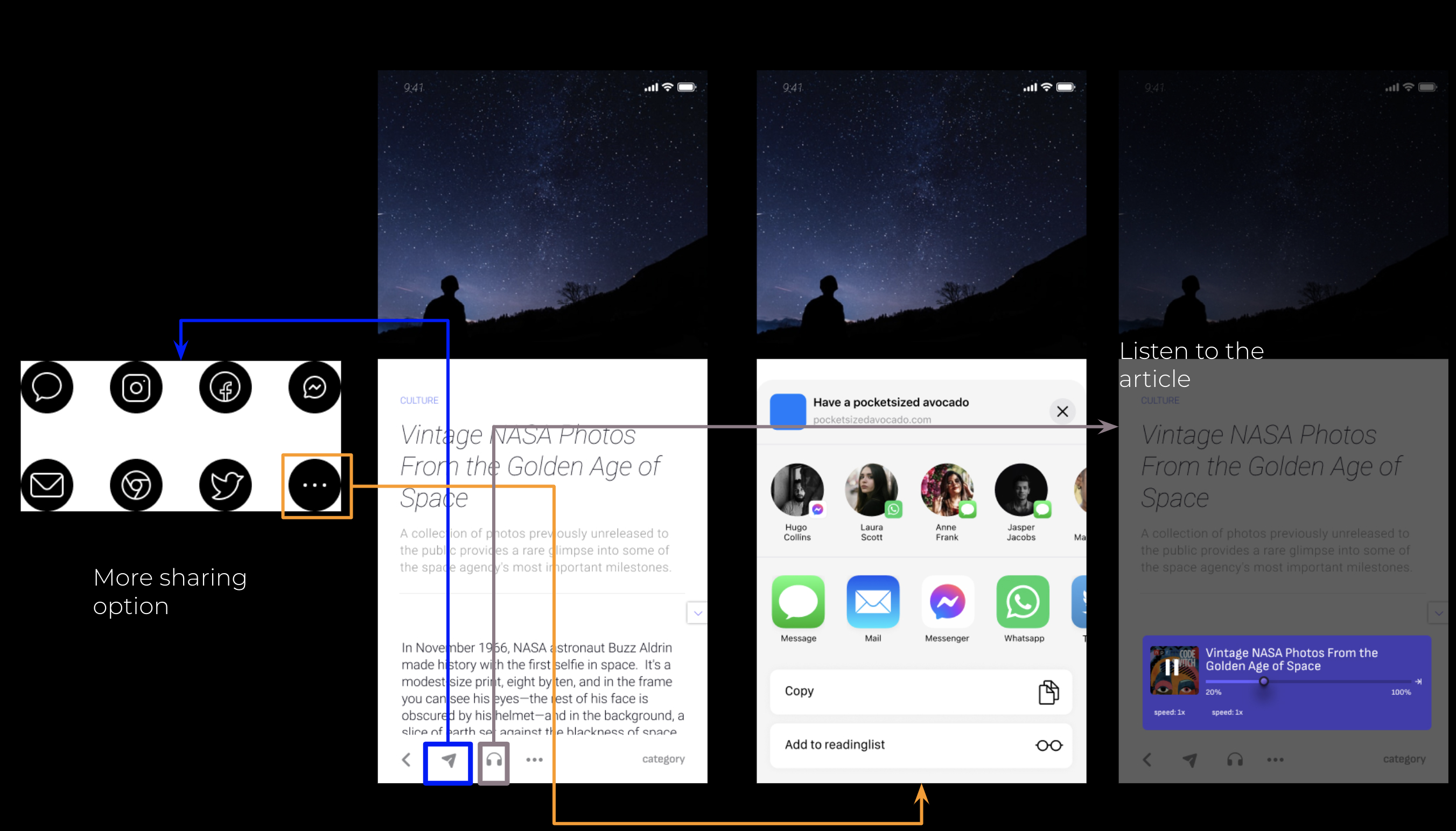 Mid-Fi Prototype

Discovery feature


Insights & Identify the solutions for each insight

01. Categorize by theme is better
02. Clearer way of using some feature
Remove the page where you can see all your favorites

Only keep categories according to different themes
Delete the 1st filter pages, because they are already categorized by different themes
Delete the share from the reading page only keep one sharing icon
03. Exploring feature requires detail

04. Listen to the article part needs to be more clearly
Delete the square icon. Instead of having square icon only keep the search icon
On the search page, the search box is at the top
Next is the search history
Below are the recommended categories according to the user's preference
And lastly, the current trending recommendations
The text and player interface each covers half of the screen

The text can scroll automatically depending on where it is played

When you listen to the article, text highlighting will appear where it is playing, so when you stop, you can directly see where in the article it is playing.
MSCW FEATURE & SYSTEM MAP




USER JOURNEY

FINAL VISUAL

Onboarding
The first one is onboarding, when user first download this app, the first will be the name of the app which is memory archive, and the next will be a very shory intro of each feature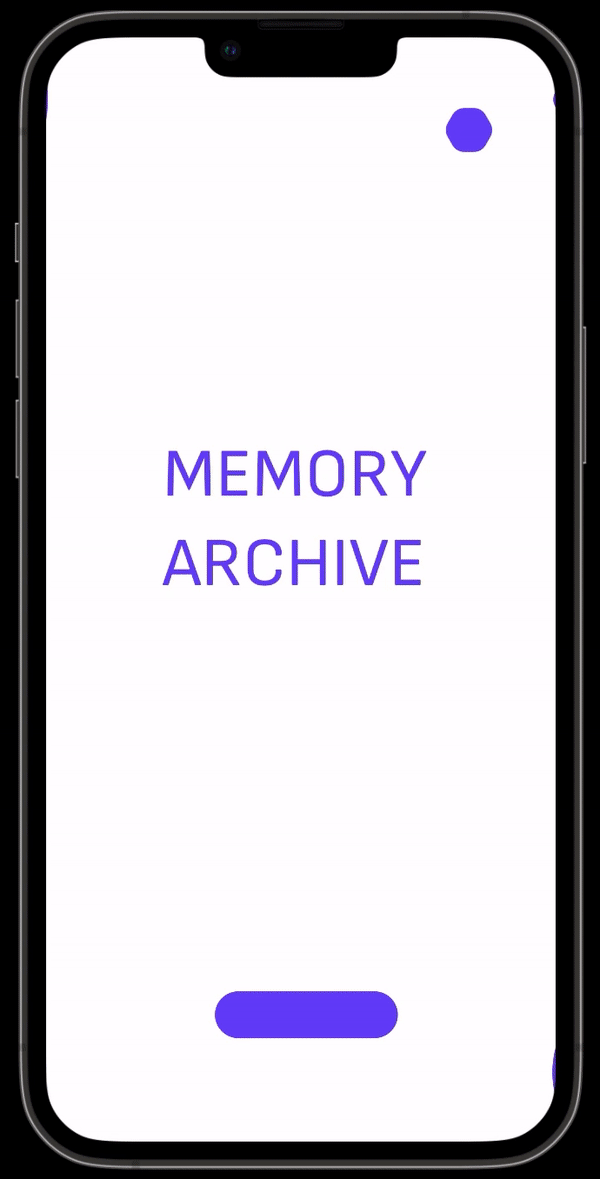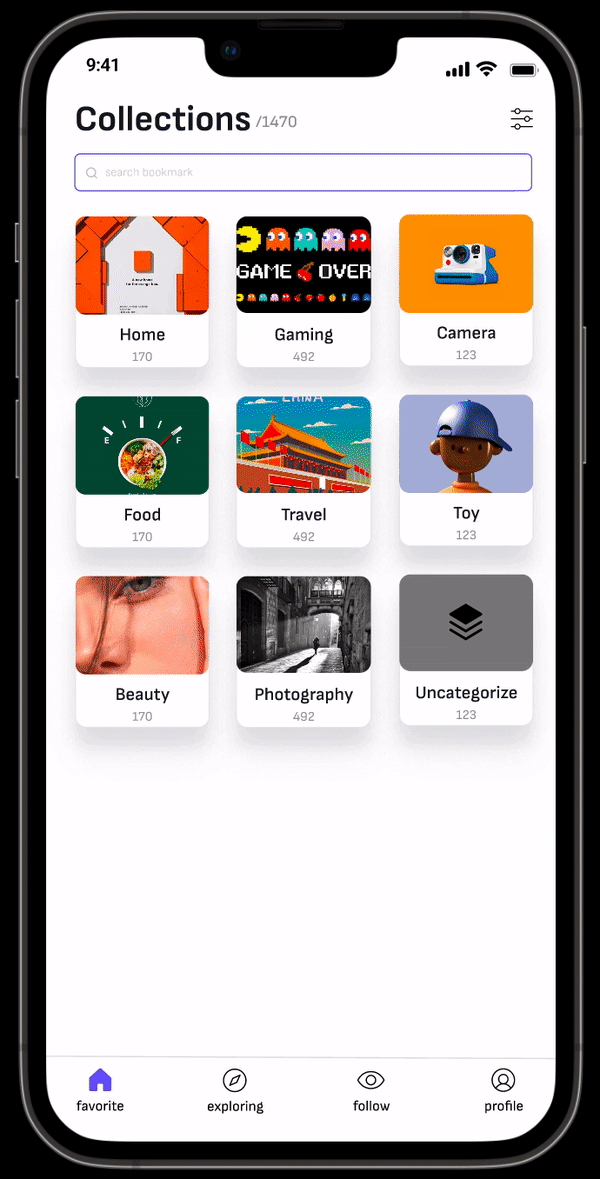 Import link


Let's assume that now a link has been copied, then the user opens the app and there will be a pop-up window to save the link directly, and the user can choose to put it in a group.
Filter and sorting

First of all, there are some small tags below to make it more straightforward for the user to see the results of the filter.

Next, click on the button to enter the filter and Sort page, in which users can filter by reading status, or adding time and ect.

Then users can click on the plus button to add a new folder, they can easily change to night mode.

User can also click Edit Folder, where they can add new folders, and swipe left to
combine two folders, change names, or delete folders very easily

Reading


By clicking on the articles, users can read the full article or jump to the end by clicking on the arrow. Touch the screen to have more options.

Exploring

By clicking on Follow, you can see what articles have been recently favorited by your friends.There are different ways to add friends

Click on Profile, user can see their own profile page

Click on like to see the articles you have liked in the app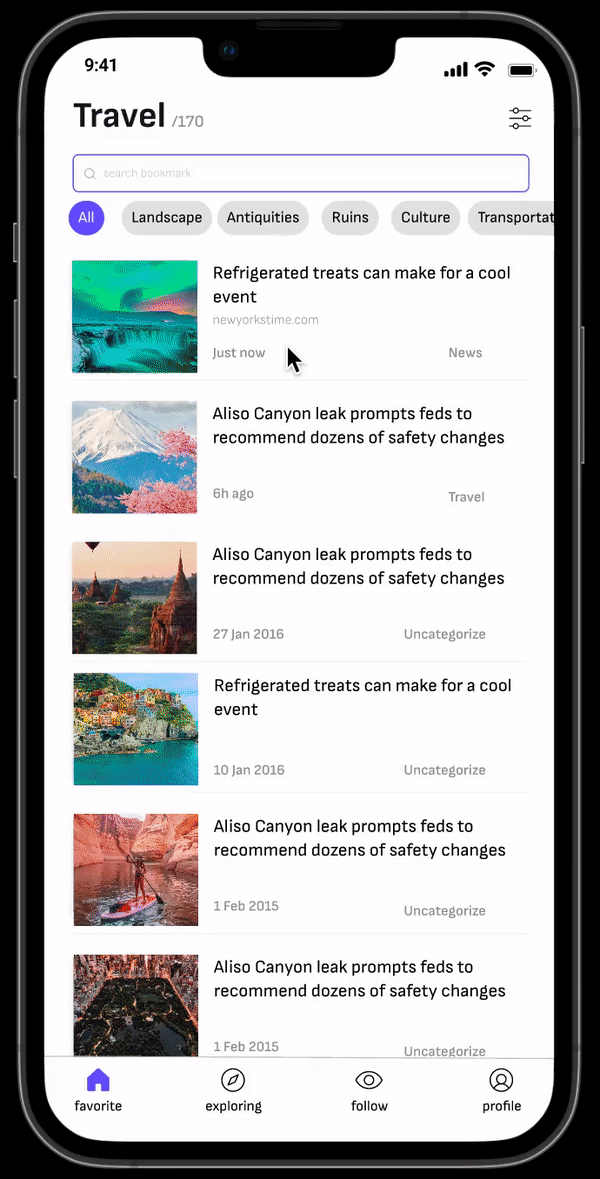 Continue to improve prototype based on the findings and solutions from user testing
Add more details and interaction in some steps